Welcome …
to my scandalous world of erotic romance where everything's hotter! I'm glad you stopped by for a visit and hope you'll take a look around while you're here. This is the best place to explore my books, read hot excerpts, and find out what's happening with me. Be sure to check out my blog if you'd like to get to know me in a more intimate setting. Oh, and don't forget to come back often for the latest updates.
Available Now …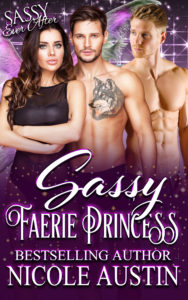 Sassy Faerie Princess – Sassy Ever After Kindle World
Princess Serena has been labeled as trouble because of her unconventional ideas. She isn't content with the frivolous activities and promiscuity rampant in Fae. No, Serena craves adventure, longs to explore parallel dimensions and discover all the magnificent wonders of the universe. But what she aches for more than anything else is to be swept away by a pair of alpha males, fall in love, and form a monogamous bond.
Only two things hold her back—the queen's rules prohibiting faeries from traveling through the portals, and the dark elven guards who ensure compliance.
News of the faerie court's plans to seal the portals for eternity means she has to act fast or be trapped in Fae forever. And there would be no chance of others ever seeing or believing in the faefolk. Without belief…
The brave faerie knows the legend well and is not about to let her kind cease to exist.
Trevor Richardson and Brady Prophet have everything they could possibly want. Careers they love, a great house, each other, and a golden retriever named Flirt. Yet Brady feels something is missing. He wants a woman to share with Trevor. The crazy chick who breaks into their house and charms their dog wasn't quite what he had in mind. She's even better.
Now if the unlikely trio can find a way to survive the jealous queen's wrath, they just might have a shot at a fairy-tale ending.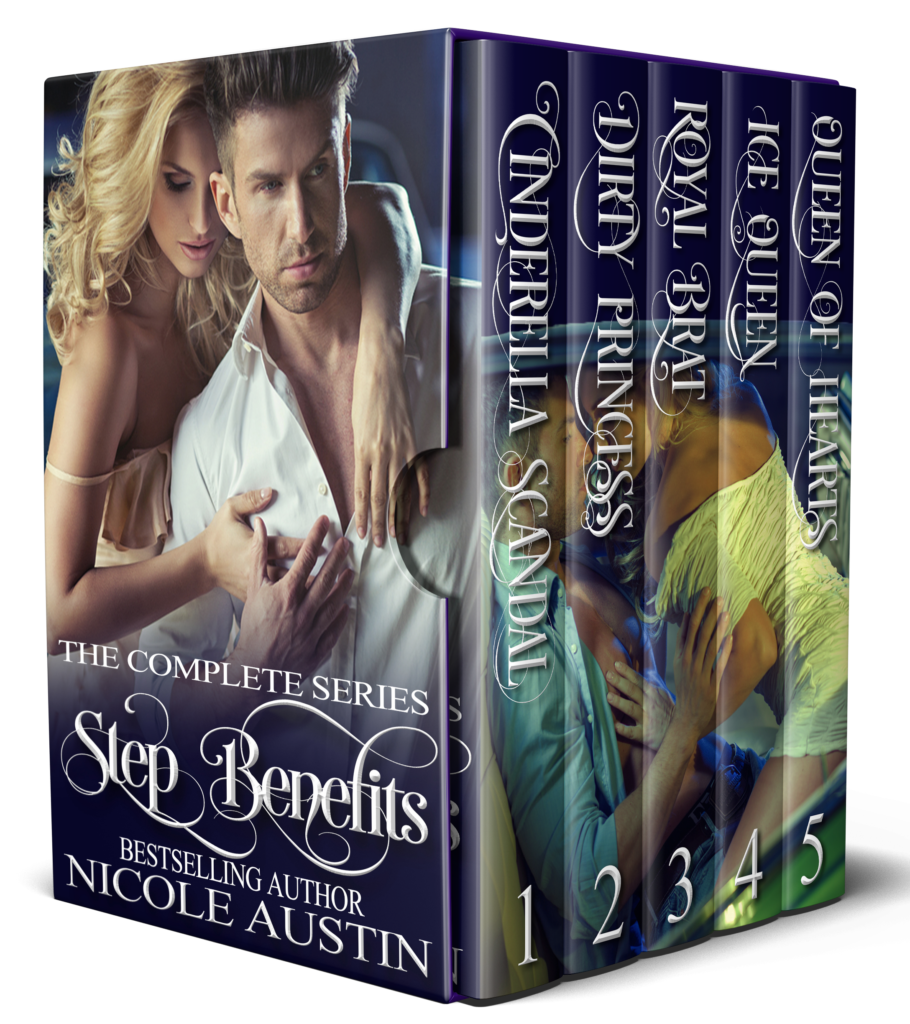 Step Benefits – The Complete Series
Cinderella Scandal 
It was a onetime indulgence—a random encounter between strangers. A good girl's dirty little secret with the bad boy. Anything else is forbidden. Or is it?
Dirty Princess 
I'm sure there's a rule in the friend code that makes lusting after your bestie forbidden. But if giving in to this off-the-charts chemistry is wrong, I don't want to be right.
Royal Brat 
Loving two men got me exiled to a foreign country. Without them I'm lost and alone, cast adrift on turbulent seas without a compass or rudder. In order to finally be together we'll have to navigate a course through the bomb infested waters of my traumatic past.st.
Ice Queen 
In school, he was the bad boy this good girl couldn't have. At work, he's the boss, I'm his intern. Oh, and his dad just married my mom. It's so wrong. We shouldn't be doing this, but I love it.
Queen of Hearts 
One CIA operative on a mission to take down human traffickers. Three former Army Rangers out to reclaim a cache of stolen weapons. When their worlds inevitably collide it's taboo, forbidden and explosive.