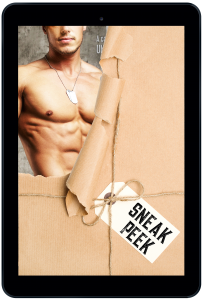 SEX BOMB
Part of the Naughty Heroes Anthology from The Naughty Literati
Naughty Heroes
In And Out of Uniform
A collection of UNFORGETTABLE HEROES
The Naughty Literati Authors are hard at work on our next BIG anthology, which will be available soon. Check back for updates and important information including excerpts, sexy cover art reveal, release date and pre-order links, contest details and so much more!
Blurb:
From first sight I knew Marine Lieutenant Harlie Savage wasn't fragile like a flower—she was fragile like a bomb. Definitely not some princess who needed to be saved, either. She was a queen who only lacked a sword, and I vowed to be her weapon.

Also includes:
Marine on a Mission - N.J. Walters
New York Times & USA Today Bestselling Author
When Mitch McCoy left rural Kentucky to join the U.S. Marines he never thought he'd return. Now he's undercover with a state drug task force. He's not only facing his past, but also Sara Hawkins, the woman who broke his heart. This investigation will risk their lives and their hearts.
Her Soldier of Fortune - Belle Scarlett
Leia has no idea who ex-Marine Major Tate McIntyre is when he saves her life in a dark alley. Yet Tate's certain Leia is his to have, hold, and protect. He vows to keep her safe at any cost. His only price is her heart. Semper Fi!
Military Blues - Elizabeth Lapthorne
Luke is struggling to recover from a career shattering IED blast that sees him permanently discharged. Milly's career self-destructed and she's moved cities in the hopes of starting again. Can this new life and new relationship be a second chance for them both?
Click here to visit the Naughty Literati website for more information.