Free E-books
New mother Savannah Black's life lacks only one thing—sex. Whenever the mood struck something always got in the way. Well not anymore. Savannah is taking matters into her own hands, removing all the obstacles and making a hot date with her hunky husband.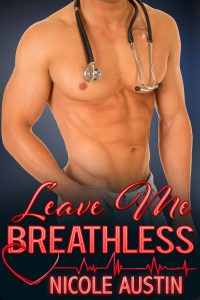 Leave Me Breathless
Donna's graveyard shift at the hospital couldn't be any more boring. She needs something to shake up the night. In walks hunky Dr. Romano, and things are suddenly looking better. In fact, he's just what the doctor ordered to cure her boredom. She's shocked when he follows her into the darkroom, but pleasantly surprised by their heated encounter.

Sex God
M/M Menage
Jaxon smooth talked his lover into taking a Mediterranean cruise vacation. Brad wasn't the best of travelers, but with any luck the trip would help rekindle the dwindling spark in their sex life. Nothing else had worked. Luke had two good reasons for tagging along on his friend's vacation. He was envious of the love the two hunky men shared, and he harbored a secret fantasy of drawing them into a menage. Never in their wildest dreams could the trio have anticipated their shore excursion turning into a highly erotic dream. A dare, a wish and a taunt lead to an amazing encounter none of them will ever forget.